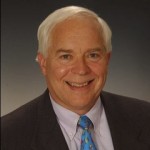 Leslie M Gray
Managing Director.
Mr. Gray is an engineer and entrepreneur, who in 1980 founded the firm Airflow Research and Manufacturing Corp, which became the world's largest supplier of radiator cooling fans for the automobile industry. He is a founder and managing director of Morgan Group LLC.
Mr. Gray has been a lecturer at MIT in the Department of Ocean Engineering, and teaches courses on Entrepreneurship, Business Best Practices. Mr. Gray has served on several boards, including startup companies, non-profits, and Quasi-public agencies.
As President and CEO of Airflow Research and Manufacturing Corp, Les led the company through rapid growth and expansion into world markets.  Under his aegis, Airflow captured most of the business of Ford and Chrysler, and had a significant presence in Europe and Asia.
In 1990, Les led the sale of Airflow Research to the Robert Bosch Corporation.  After the sale, Les continued to lead Airflow for Bosch, and was responsible for new business and company growth. By 1997, when Les stepped down from active management, Airflow had annual sales of $150 Million, manufacturing plants in 4 North American locations, and direct supply capability or licensees in most automobile producing countries.  Today, the fan technology that Les pioneered is in most of the world's new automobiles.
Prior to starting Airflow Research, Les worked for 9 years at Bolt Beranek and Newman, as a Senior Scientist, consulting to the US Navy.  His areas of technical research included airborne and undersea acoustics and signal processing.  Les is the author of over 60 papers, reports, and articles in these areas.
Les has a BS degree in Naval Architecture, and an MS in Ocean Engineering.  After university, Les was an officer in the US Coast Guard, Naval Engineering Division.
Ms. Macdonald has more than 35 years of management experience. Her experience includes financial services, entrepreneurial investments, marketing, sales, and corporate communications and investor relations.
Gina was the President and CEO of Fleet Real Estate Capital, an affiliate of one of the largest financial services firms in the US. She headed the Owned Real Estate Division of RECOLL Management Corporations, which managed the largest bank liquidation in the US and was in charge of Corporate Communications and Investor Relations for Fleet Financial Group. In addition, she ran a private development company, focusing on commercial real estate development.
As an interim executive consultant at Morgan Group, Gina served as interim CEO of Estateworks, a company providing web-based estate planning and settlement software, and as CEO at GeoVue, a resource location company. Gina serves on several Boards.
Today, Gina leads our Business Optimization practice, and is a Partner and Managing Director of Promontory Growth and Innovation, LLC.
Consulting Partners
Our staff of consultants have been CEOs, senior managers, owners or business leaders. In addition to Morgan's staff, we have consulting arrangements with industry experts who provide their services to our clients for specialty assignments.